Time to move to a one story house?
A friend of mine recently told me that her knees make all kinds of strange noises as she ascends the stairs in her home. I said, "Looks like it's time to consider selling your two story home and buying a comfortable one story."
You know its time to consider a single level move when you pile stuff at the bottom of the stairs because you don't want to go up and down from one floor to another. Or maybe you have two of everything? One for each floor?
It's time to move to a single story home! And we make it easy. First we've created a special website just for those considering a move to a single level Sacramento or Elk Grove, CA home.
Visit www.SingleStoryForSale.com now.
---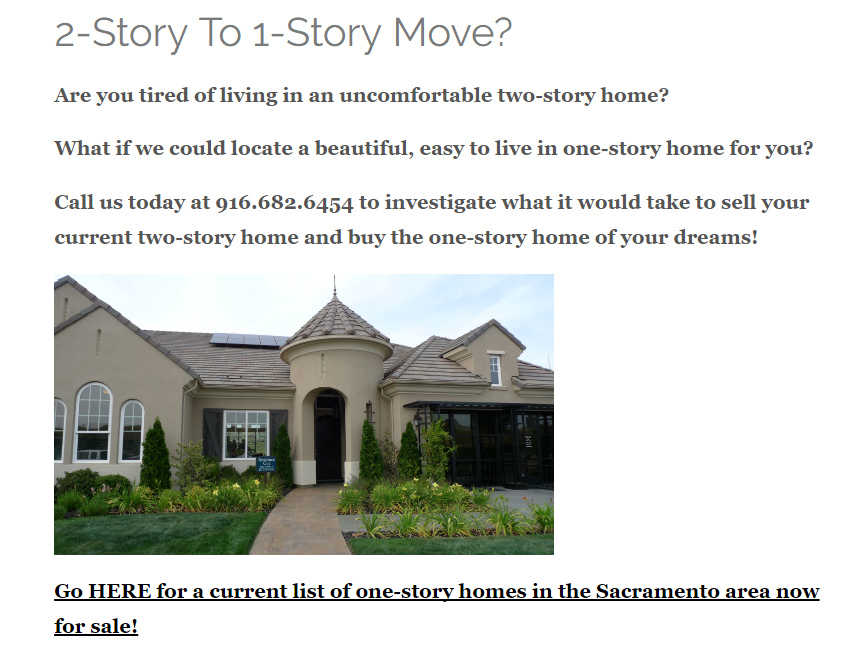 ---
As you can see, when you go to the page, you can click on the link that will take you to a current, up-to-date list of single story Sacramento County homes now for sale.
Or, if you'd like a list emailed to you in your area and price range, call us today at 916.682.6454.
A service of David Jurewicz, REALTOR(r), real estate broker, RE/MAX Gold (00661096)
P.S. Would you like to know the current value of your home? GO HERE.