The latest sales numbers from the Sacramento Association of REALTORS(r) covering sales for 2017 reveal a continued upward direction for the Sacramento County real estate market in 2018.
Go HERE to download the report.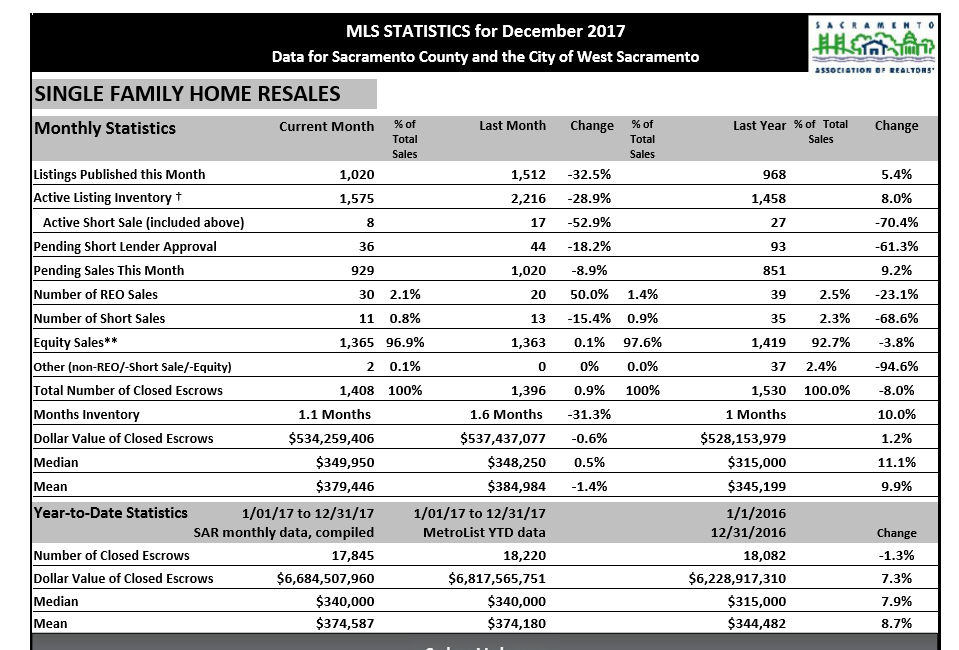 The report reveals:
Continued shortage of homes for sale. It would take only a little over one month to completely sell our inventory of homes for sale if there were no new houses going on the market.
The number of closed escrows was down just slightly from 2016.
The dollar volume of escrows is up slightly over one year ago.
The median price of a home, now at $340,000 (just as many homes sold above that number as below that number) is up almost 8% from the previous year.
80% of all homes sold in the first 60 days. The average home sold in 31 days. This means if you haven't sold your home in the first 30 days, it would be important to adjust something to get more action.
What the report doesn't say is how long our current strong seller's market will continue. Therefore, if you are even just THINKING about selling, call us for a no-obligation evaluation of your home's marketability, how much it may get in today's market and how much money you may net after all expenses at close of escrow.
Call today 916.682.6454.
David Jurewicz, Broker, RE/MAX Gold 00661096