"When I attend a car show, I get a peek into mechanical genius and what's really going on in our economy." - David Jurewicz
For years I attended the Sacramento International Auto Show. I really enjoyed not only seeing new cars but driving them on their test tracks as well on the Cal Expo fair grounds. But until last year, I didn't realize how many cars I didn't see at that show until I attended the San Francisco Chronicle Auto Show which will be held November, 21-25 of this year at the giant Moscone Center.
Well, first of all, it's an all day event, as the Moscone Center in San Francisco is a huge place. There are hundreds of cars to see and some of them are so amazing you want to sit in the driver's seat. But, alas, you can only stare at them from the outside. For example, I wish I could have sat in the driver's seat of this Lexus sports car: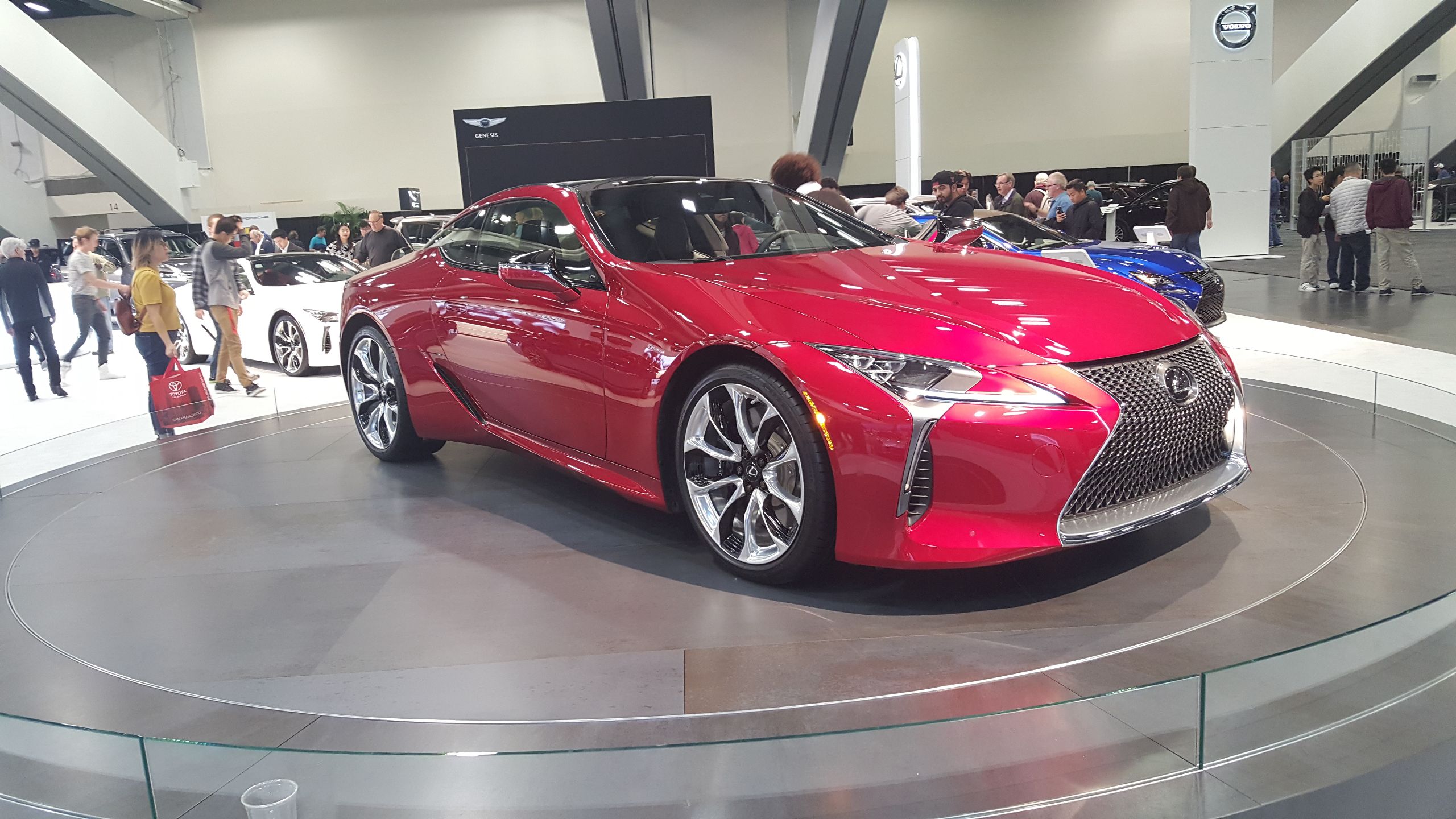 But I did get to sit in the top of the line Mercedes sedan. Wow, that car is really amazing. It's has all the cutting edge features you'd expect from a premium ca. Once you sit behind the wheel, you don't want to leave.
Which brings me to what I really learned about new cars. There really are two classes of cars, one to get you from point A to point B. The other class makes you feel like you've gotten somewhere in life. So much so, that if you're in traffic, you don't mind. In fact you may be tempted to take the long way home.
The commuter cars are still expensive, but feel "cheap." Surrounded by plastic and leatherette it's at best a "one hour" car. I want out as fast as I can get out.
But once you step into the luxury side, suddenly things get quite beautiful. For example, the Mercedes people let me drive around San Francisco in their artfully sculpted medium sized sedan. In white supple leather, the car felt much bigger than it was through clever use of chrome, and six inch tall pieces of hardwood that surrounded you. High tech gadgetry let's you know what's going on everywhere all at once. Round air vents that look like they were stolen off of a sea vessel blow cool, quiet air. There's even a slight sweet perfumed scent that enters the cabin. Now, that's a car. The Mercedes Benz representative encouraged me to put the six cylinder turbo charged engine to the test. While powerful it is no match for the bigger sedan with a V-8 power train. But I'm sure it was less expensive to operate.
Another notable car that really impressed me was the top of the line Genesis car. At a much lower price than the comparable Mercedes, it too had many luxury features and a V-8 engine with more than enough power. It felt good to be in that car too. Some cars have had dramatic improvements over the years. Others are have plateaued.
My conclusion about the US economy? It's clear there's a division of those that want a commuter car and those who want to drive in luxury. Similar to the division between those who get by financially and those who really drive to get ahead. I found no cars in the middle. They either got you there or were designed to not only make you feel comfortable, but to make a statement about where you are in life.
I'm further amazed at how mechanically cars have moved forward. They're easier to maintain than their predecessors. Just take it in for routine maintenance, as outlined in the manual, they take care of the rest and your car just runs and runs. I venture to say that today's least expensive car is mechanically superior to the cars I had in my youth.
My next car adventure? The Los Angeles Auto Show this coming November 30, 2018 through December 9, 2018 at the LA Convention Center. What will the 2019 automobiles look like? What advances will they make? What cars will auto manufacturers reveal in Los Angeles that they won't in other places? I'll let you know.
by David Jurewicz, Real Estate Broker
RE/MAX Gold 00661096
Call 916.682.6454
P.S. Would you like to INSTANTLY know the value of your home in just a few minutes? Go to: