Lately I've heard mediocre public speeches making me wish I had brought a pillow.
Here are the three issues I see and hear:
1. The speech is too well prepared using a manuscript with carefully chosen words. Even if the speaker wasn't reading from the written manuscript, he was reading from his mental manuscript which results in a stiff, lifeless presentation. The speech may be logical, but it doesn't reach the heart of the listener and does not prompt them to take action.
2. The speech is monotone, with no drama. The speaker hits a high in pitch pace and power and stays there the whole speech.
3. The speech is too cerebral. It's logical, yes, but doesn't reach the audience's heart.
How can we improve?
Here are some ideas:
Speak from the heart without a manuscript. Instead, use one sentence notes (or an outline) to remind you of your thoughts. Then speak from your heart. Audiences can sense when you're speaking extemporaneously or from a carefully prepared set of words. In a 15 minute speech your notes could fit on one 3"X5" card! The only time you'd need more notes is if you're quoting statistics or the exact words of another person. The only reason you may use a manuscript if you must weigh every word, like the President addressing the world.
Understand your most important points and build to them. Work on creating a crescendo of pitch, pace or power as you reach our biggest point. What makes a roller coaster fun? The fact that it has ups and downs and fast and slow parts. Your speech could be the same as a roller coaster. Make it thrilling for your audience!
Video tape your practice speeches and watch them carefully. Do you move around too much, have meaningless gestures, have word whiskers that can distract?
Use quiet pauses as a dramatic way to make your points. You don't have to fill every second with sound. Audiences will wait for about one minute while you gather your thoughts or let you big point sink in.
People around the world spend billions of dollars to have Hollywood tell them a story. After you make one of your big points, tell a real life story that illustrates how your big point works in real life.
Follow the rule, tell them what you're going to tell them, then tell them, then tell them what you told them. Use the beginning of the speech to build anticipation for what you're going to convey to them. Then follow that outline for your speech. Then have a final review of what you just told them.
Use your conclusion to move your audience to action. Explain clearly what you want them to do and give them the courage to take action!
Don't use Power Point presentations. Nothing robs you of your speaking power than a boring slide show. Instead use a white board or large paper to draw what you're explaining to them. This forces listeners to pay close attention, not zone out.
Don't give a "speech," that is, a stiff heavily calculated sermon. Instead, deliver an enthusiastic conversation with your audience. The more natural you appear, the more the audience will let down their guard and accept what you're saying. (By the way, you can tell if you have your audience in the palm of your hand by their silence. Sometimes, if you do it properly, you can hear a pin drop.)
I have been giving speeches for 50 years, to many different audiences, including huge corporations, fast food empires, radio, television. My written speeches have appeared in newspapers and magazines. I used to own a seminar company. I was the real estate editor for KFBK radio and KCRA TV.
There are techniques to assist you in dealing with nervousness. A man once told me, "If you're going to have butterflies in your stomach when you give a speech, make sure they're flying in formation."
I can prepare you for your next speech. If your talk is important, I'm worth every penny. I charge $500 for a 4-hour session. I can get you ready fast (I used to direct TV and radio commercials!). Feel free to give me a call at 916.682.6454.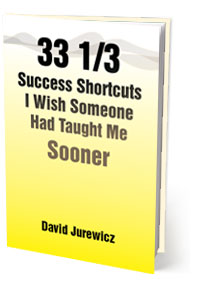 How to give a great public speech is just one of the topics in David Jurewicz' book, 33 1/3 Success Shortcuts I Wish Someone Had Taught Me Sooner available at fine book outlets or CLICK HERE.
You can reach David Jurewicz, REALTOR(r) 00661096 of RE/MAX Gold by phone for practical solutions to many business issues you face. Dial 916.682.6454 today.